Thick Thermoforming Machine
Adopts Plc Control System and touch screen.
PVC,ABS,PC,PE Sheet.etc (2-10mm).
Heat system: up and down heat system.
Max Forming Area: 4000*2500*1000(mm).
Aircraft tray tables, window shade liners, galley pans, seat backs, miscellaneous interior covers.
Truck bedliners,truck caps,tonneau covers,bug shields,rain guards, floor mats,dash kits.
Headliners, cargo liners, door watershields, dash insulators, flooring, package trays/shelves.
Bumper fascias, running boards, spare tire covers, ground effects, wheel wells, gas tanks.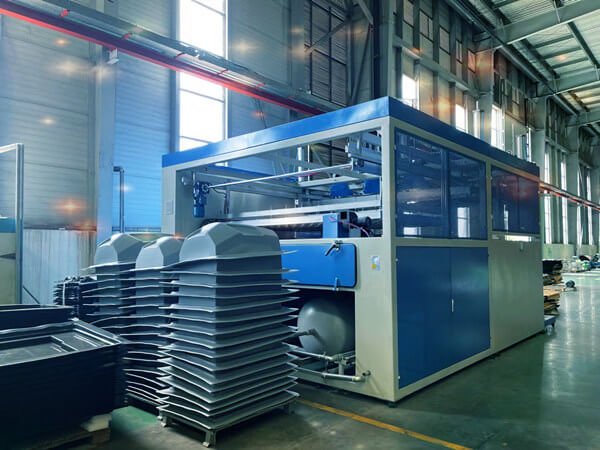 Roll Feed Thermoforming Machine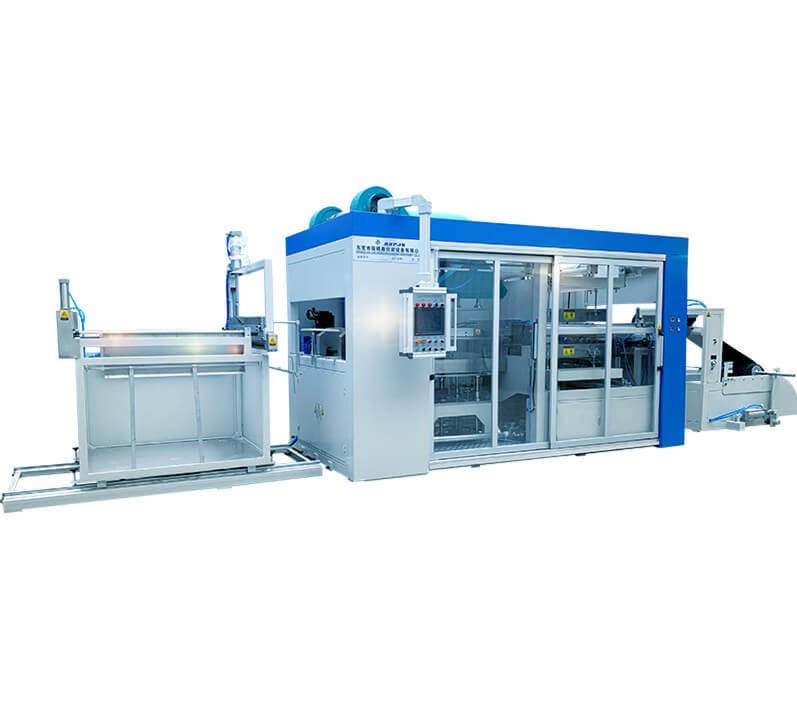 Roll Feed type :Special for Thick plastic (1-5mm) forming such as Car Tail pads,foot pads,car guards.
whereby a sheet of plastic is heated to a forming temperature, stretched onto or into a single-surface mold, and held against the mold by applying vacuum between the mold surface and the sheet.
vacuum forming machine, also known as thermoplastic forming machine, is a machine that absorbs thermoplastic coil materials such as PVC, PE, PP, PET, HIPS and other thermoplastic rolls into various shapes of high-grade packaging decoration boxes, frames and other products.
By using the vacuum suction produced by the vacuum pump, the heated and softened thermoplastic sheets such as PVC and PET are molded into vacuum covers, blister trays, bubble shells and so on.
ABS very common material.Good Stiffness and impact strength.
HIPS: colorful and low cost
HDPE:Good Cold Temperature properties.
PP:Excellent chemical resistance.
ACRYLIC
PVC:Good impact strength.
PC:Very high impact strength. Clear. High temperature resistance.
Thermoforming Advantages:
1.Lower Costs for small to medium production.
2.lower tootling costs.only about 1/5-1/10 injection mold cost.
3.less set-up and lead time.
4.Excellent color and texture forming.
5.Shorter lead time to production start.
6.Large Part molding:Thermforming is more economical for large parts with low to mid volume.
The mold can be made of Wood,plastic and aluminium. Aluminum is the most widely used material for thermoformed tooling because of favorable fabrication costs plus superior thermal conductivity.
Thin Thermoforming : mainly for the material 0.3-1.0mm thermoforming. such as plasic cup,plastic tray,food tray,blister.etc
Thick Thermoforming: mainly for 2-10mm plastic thermoforming.
Plastic Sheet Extrusion Machines: extrudes granule to sheet which is used for producing plastic products by plastic thermoforming machines
Thick Thermoforming Machine:for thermoforming products of thick plsatic sheet .
Thin Thermoforming Machine:cups, food container, trays, dishes, bowls, lids
Cutting Routers:for cutting the thermoforming parts
CNC Machines:used to produce the highest quality and accurate molds and tools.
Heavy gauge thermoforming machine custom made available!
We can make the machine according to customer requirements. If you need the suitable thermoforming machine and vacuum forming machine our products,just feel free to contact us.
Single Sheet Thermoforming Machine, Inline Thermoforming Machine,Automatic Thermoforming Machine.