Plastic Crusher — S Series
Plastic Crusher S Series is suitable for plastic recycling box class, thin pipe, blow molded parts, bottles, shell.And the flat large structure  knife suitable for crushing large volume thin-walled, thin materials and products.
Plastic Granulators and Plastic Crushers are used for recycling of different type plastic wastes, injection mold, and defective products during injection molding and blowing molding production.
plastic crusher machine can crush different hard and soft plastic material such as PET, PP, HDPE, LDPE, PA (nylon)+ glass fiber, ABS, PVC, P, PMMA and so on.Such as plastic wastes, defective plastic products, injection mold sprues, blowing mold sprues, PET bottles, thermoforming sheets, etc. to be small pellets, granules and scraps material.
The knife tool is refined with imported special tool-steel, the clearance between knife tools are adjustable, when it becomes blunt by using, it can be dismounted repeatedly, it is durable.Waste Material Strong Plastic Rubber Pet Cola Bottle PP PE Film Woven Bags Waste Crusher.The standard power supply is 3Ø 380V 50Hz. Other power supply is available.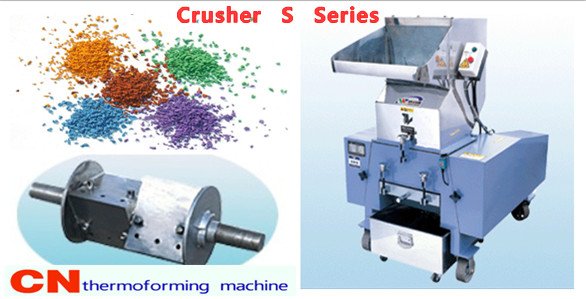 Specifications:
| | | | | | | |
| --- | --- | --- | --- | --- | --- | --- |
| Model | CS380 | CS500 | CS800 | CS815 | CS960 | CS1100 |
| Chamber | 380*240 | 500*240 | 800*470 | 815*520 | 960*610 | 1100*610 |
| Output | 200-300 | 300-400 | 450-600 | 550-700 | 600-800 | 800-1000 |
| S-Blade | 2pcs | 2 | 4 | 4 | 4 | 4 |
| R-Blade | 6pcs | 6 | 9 | 12 | 12 | 12 |
| Power | 7.5KW | 15 | 22/30 | 37 | 37 | 75 |
| HP | 10 | 20 | 30-40 | 50 | 50 | 100 |
| Size | 107*84*139 | 139*107*184 | 173*149*230 | 183*166*245 | 195*176*274 | 265*205*344 |
| Weight | 515KG | 900KG | 2000KG | 2300KG | 3000KG | 6000KG |
You May be Also Interested in Relative plastic crusher machine Products: