Vacuum Formed Blister Packing
Vacuum Formed Blister Packaging is a term for several types of pre-formed plastic packaging such as blisters, Slide blisters, flange folded blisters,carded blisters,double blister,clamshells used for small consumer goods, foods, and for pharmaceuticals.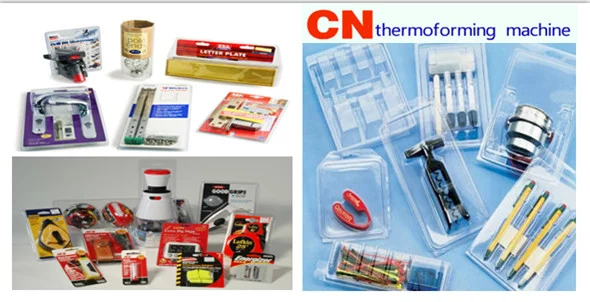 The primary component of a blister pack is a cavity or pocket made from a "formable" web, usually a thermoformed plastic. This usually has a backing of paperboard or a "lidding" seal of aluminum foil or plastic.
Blister packs are commonly used as unit-dose packaging for pharmaceutical tablets, capsules or lozenges. Blister packs can provide barrier protection for shelf life requirements, and a degree of tamper resistance.
PVC/PET + Card Projects Video
Thermoforming Machine Video