Clear Plastic Egg Tray Machines——Automatic Vacuum Forming Machines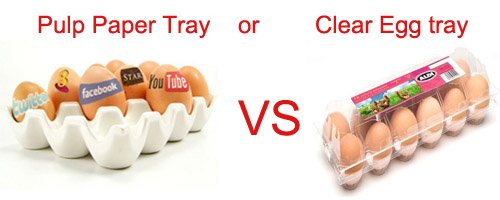 Why clear plastic egg tray packaging?
Hygienic, easy to handle, safe
clear egg packs give consumers the unique advantage to see what they buy – without opening the pack.
reduces the risk of breakage dramatically, it increases hygienic aspects, broken eggs are detected at first glance.
no need to pollute or waste water and  can be 100% recycled
egg purchase in the supermarket becomes more quick, easy and comfortable.
What about the materials? Price? waste rate?
PVC,PET,PS,etc Roll  Materials (Thickness:0.2–1.5mm)(Width:460-760mm)
Material Price : about 2000-3000USD/Ton, Waste rate : 30%.
Famous manufacturers and trader of clear egg packaging:
working process: roll sheet material–heat–vacuum formed
relative products:
Clear Egg Tray machine is sometimes referred to as :
clear egg tray machine,plastic egg tray machines,egg tray making machines,egg tray machine suppliers,egg tray machine price,egg tray machine manufacturers,egg tray machinery,egg carton machine manufacturer,egg carton machines.Quail egg tray machine,etc